Dalgıç Tip Mikserler
TR 14/16/21 serisi Dalgıç Mikserler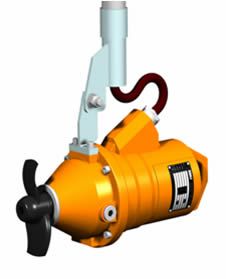 Uygulama alanları:
Pompa çukurları,
Evsel ve endüstriyel atıksuların toplandığı hazneler,
Atıksu arıtma tesislerindeki dengeleme,nitrifikasyon/denitrifikasyon,
fosfor giderme, havalandırma tankları.
Çamur tankları
Genel Özellikleri
4 ile 27 m³'lük dolu havuz hacmi için kullanıma uygundur.
Trifaze bağlantı
Koruma sınıfı IP 68' dir.
Ø140mm - Ø160mm - Ø220mm pervane çapı seçenekleri mevcuttur.
Motor gövdesi: Döküm
Pervane malzemesi: Poliüretan (PUR)
Motora direk akuple pervane ile yüksek verimli ve yüksek devirlidir.
Kullanıcı dostu montaj aparatları ile kolay kurulum ve bakım imkanı
sağlar.
Wilo EMU Megaprop / Maxiprop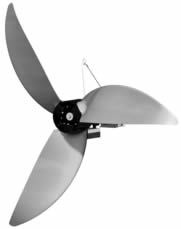 Slow-running submersible mixer reduced by two-stage planetary gear
Energy-optimised mixing and circulation of activated sludge
Creation of flow rates in circulation channels
Further areas of application in industry
Special features/Product advantages
Submersible
2-stage planetary gear for adapting the propeller speed
Self-cleaning propeller
Propeller blades can be exchanged individually
Easy-to-install blades and hub
Propeller in GFK version
ATEX and FM version
1.4462 gear shaft
Technical data
Mains connection: 3~400 V, 50 Hz
Immersed operating mode: S1
Protection class: IP 68
Max. fluid temperature: 40 °C
Two-stage planetary gear with exchangeable second planetary stage
Mechanical seal with SiC/SiC combination
Permanently lubricated roller bearing
Max. submersion depth: 12.5 m
Equipment
Installation with stand allows free placement in basin
Flexible installation
Two-stage planetary gear with exchangeable second planetary stage
Description/Design
Propeller
2- or 3-bladed propellers made of GFK in sandwich design; the blade hub is made of cast iron. Nominal propeller diameter from 1500 mm to 2600 mm. Entwining-free design made possible by backward-curved incoming flow edge. The propeller blades are permanently fixed, which guarantees the best possible hydraulic efficiency.
Motor
Wilo T-series submersible motor with standard connection, enabling simple and efficient adaptation of the motor power classes The motor heat is given off directly to the fluid via the housing. The winding is equipped with a temperature monitor. Large-sized inclined and grooved ball bearings ensure long service life of the motor bearings.
Sealing
Sealing is achieved through the use of a 3-chamber system (prechamber, gear chamber and sealing chamber). The large-volume prechamber and sealing chamber collect leakage from the mechanical seal. If desired, the sealing chamber can be equipped with an external sealing chamber electrode. The sealing between the fluid and the prechamber, as well as between the gear and sealing chamber are realized by a corrosion-resistant and wear-proof mechanical seal made of solid silicon carbide material. The sealing between the prechamber and gear chamber as well as between the sealing chamber and motor are realised by radial sealing rings. A seal bushing made of stainless steel ensures long-term corrosion-protected fit of the mechanical seal.
Gear
2-stage planetary gear with exchangeable transmissions. The gear shaft is made of saltwater-resistant stainless steel 1.4462. The gear bearings are dimensioned so that the resulting mixing forces are absorbed and are not transferred to the motor bearings.
Cable
The power cable is a type NSSHÖU cable for heavy mechanical loads. The power cable enters the motor housing through a water pressure-tight cable lead-in with strain relief and bend protection. The individual wires as well as the cable sheath are additionally sealed to keep out fluids.
Materials
Housing parts made of EN-GJL
Propeller blades made of GFK
Propeller hub made of EN-GJS
Screwed connections made of stainless steel
Gear shaft made of 1.4462
Scope of delivery
Submersible mixer with mounted propeller hub and cable
Cable length per customer request
2- or 3-bladed - delivered separately, installation is performed onsite.
Accessories per customer request
Operating and maintenance manual
Wilo EMU Miniprop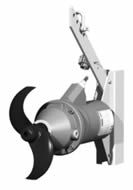 Compact directly driven submersible mixer
Swirling of deposits and solids in rain spillway basin and pump sump
Destruction of floating sludge layers
Other areas of application in agriculture and water supply
Special features/Product advantages
Submersible
Low power consumption
Low weight
ATEX and FM version
Self-cleaning propeller with helix hub
Easy-to-install propeller attachment
Propeller in steel or PUR version
Optional: 1.4462 motor shaft
Technical data
Mains connection: 3~400 V, 50 Hz
Immersed operating mode: S1
Protection class: IP 68
Max. fluid temperature: 40 °C
Mechanical seal with SiC/SiC combination
Permanently lubricated roller bearing
Max. submersion depth: 12.5 m
Equipment
Stationary installation on walls and floors
Flexible installation through the use of lowering device or special pipe attachment
Can be swivelled vertically and horizontally during installation with lowering device
Description/Design
Propeller
2-bladed propeller made of PUR or stainless steel. Nominal propeller diameter from 140 mm to 280 mm. Entwining-free design made possible by backward-curved incoming flow edge and patented helix hub. The propeller blades are permanently fixed, which guarantees the best possible hydraulic efficiency.
Motor
Wilo T-series submersible motor with standard connection, enabling simple and efficient adaptation of the motor power classes The motor heat is given off directly to the fluid via the housing. The winding is equipped with a temperature monitor. Large-sized grooved ball bearings ensure long service life of the motor bearings.
Sealing
Double shaft sealing with large-volume sealing chamber to collect leakage from the mechanical seal; available with external sealing chamber electrode upon request. On the motor and fluid side, a corrosion- and wear-resistant mechanical seal made of solid silicon carbide material is used. A seal bushing made of stainless steel ensures long-term corrosion-protected fit of the mechanical seal.
Cable
The power cable is a type H07 cable for heavy mechanical loads. The power cable enters the motor housing through a water pressure-tight cable lead-in with strain relief and bend protection.
Materials
Housing parts made of EN-GJL
Propeller made of PUR or stainless steel
Propeller hub made of stainless steel
Screwed connections made of stainless steel
Scope of delivery
Submersible mixer with mounted propeller and cable
Cable length per customer request
Accessories per customer request
Operating and maintenance manual